Celebrating 90 years of the CAA School Safety Patrol® program.
The CAA School Safety Patrol program has been keeping students safe in school zones and on school buses since 1929.
More than 90 years ago, CAA decided that a program was needed to keep children safe while travelling to and from school. At the time, the automobile was becoming more frequent on our roads and children were getting injured because of its presence near schools. Today with increased traffic – from children walking to and from school and automobiles and buses picking up or dropping off students – the CAA School Safety Patrol program is more relevant than ever. The program helps to ensure safer school zones.
To learn more, click here.
Get to know CAA School Safety Patrol
Approximately 1.4 million students in Ontario commute to and from school every day.
Keeping kids safe on foot or on bus.
Foot Patrollers monitor crosswalks, driveways and pick-up and drop-off areas near the school. Bus Patrollers help keep students safe in transit and while getting on and off the bus at school.
Student volunteers in the program.
The CAA School Safety Patrol Program can be found in over 800 schools across Ontario. Students are further enriched by applying the concepts learned through the program training and by giving back to their communities.
Appreciation for our Patrollers.
Each year, CAA recognizes our Patrollers by inviting them to a special movie day event. Plus, we offer other year-end incentives to show our appreciation. For the 90th anniversary of the program, we created a dance for them based on their Patroller moves.
Annual awards to recognize greatness.
Yearly awards are presented to a: Patroller, Patrol Supervisor, Police Service and Community Partner. Read about some of their valuable accomplishments and contributions here.
Download your copy of the CAA School Safety Patrol brochure.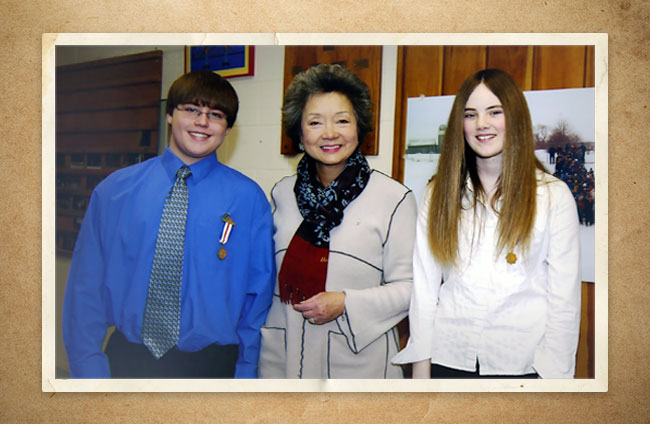 Kudos Patrollers … we're so proud of you.
CAA School Safety Patrol program has a rich history of accomplishments. Adrienne Clarkson, former Governor General of Canada, presents the CAA/Governor General Lifesaving Medal to Matt Sexton and Amber Visser, two former students of Uptergrove Public School. On Friday, January 28, 2005, the former bus patrollers received the award for their quick reaction in helping to save the life of their bus driver- who had a severe allergic reaction while operating a school bus.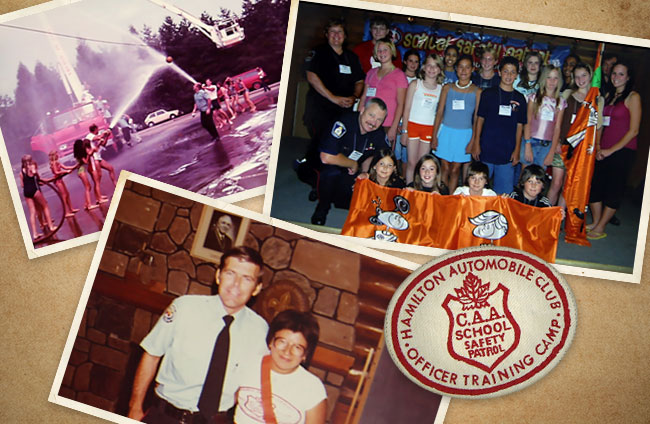 A different type of leadership camp.
A landmark occasion that many Patrollers will remember is the CAA School Safety Patrol Camp in Oshawa. Not only was it the first overnight away from home for many students, but it was also the first time they got to use a fire extinguisher and play hose ball (a tug of war type of game) with hoses hooked up to a tanker fire truck. The safety camp developed leadership skills for Patrollers, so they could champion the program when they returned to school.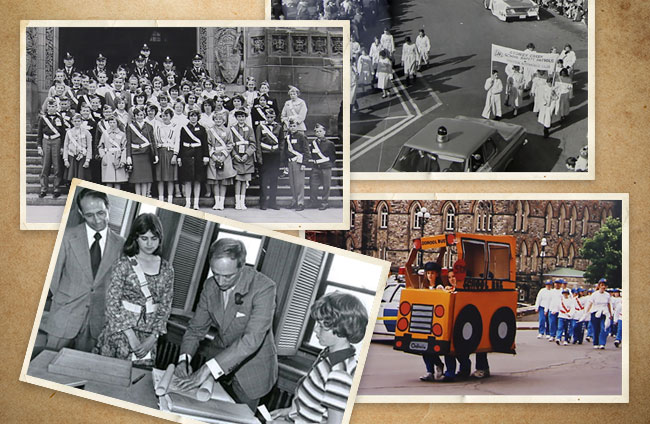 Patrollers explore and learn at the nation's capital.
Parading around Parliament Hill, meeting Prime Ministers, and exploring the city's museums and galleries made the Ottawa Jamboree a memorable trip for CAA School Safety Patrollers. Besides being the largest gathering of Patrollers, it was also the first time many students travelled to the nation's capital.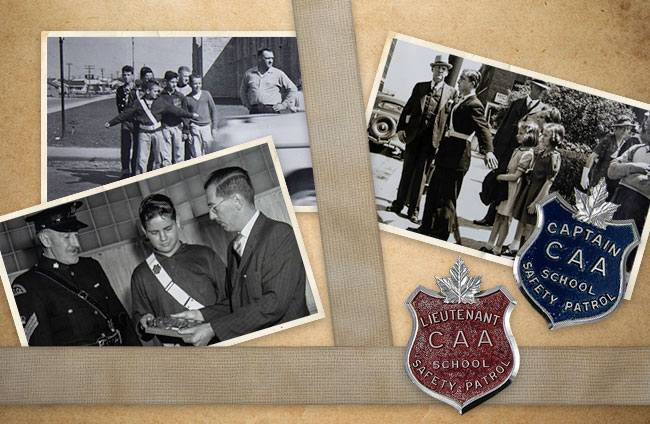 It all began with a belt and badge.
An iconic symbol of the CAA School Safety Patrol program is the "Sam Browne" belt that Patrollers wore while on duty. Often, large badges were attached to them to indicate their rank -such as lieutenant or captain. Today Patrollers wear a bright green vest, so they can easily be seen and identified while in school zones.
Alumni Stories.
Every time CAA School Safety Patrollers put on their safety vests, they are met with new opportunities and challenges to learn and grow. CAA reconnected with a few program alumni who shared their incredible stories.
A Thank You to CAA School Safety Patrollers.
With a pledge, with a uniform, with a smile, CAA School Safety Patrollers show us what it means to be a leader.